The other day I happened to watch an Ekta Kapoor serial for a few minutes. Basically, Mom and Biwi were watching it and I just happened to be in the same room at that time reading the newspaper.
The scene was thus. A group of youngsters dressed in party wear were talking about smoking openly at home. At which one of the girls says that her Mom and Dad were pretty cool about it and there was no problem in fagging or boozing at home. She takes out a ciggie and is about to light it when her Dad appears. This cool Dad, apparently named Mr Walia, approaches her with anger on his face, shouts at her saying she was not supposed to smoke that cheap brand of cigarettes and asks her to smoke the best and costliest brands available. And he walks away ushering his servants to serve costly liquor to his children and their friends. The scene closes with one of the girls telling what a cool Dad she had.
Now, according to biwi.. it was a plan that Mr Walia was using to get his children off smoking. Ok.
I, as a non-regular viewer, saw almost 10-15mins of the episode. There might have been hundreds across the world who might have channel surfed and landed on this channel at the time the scene in question was being screened.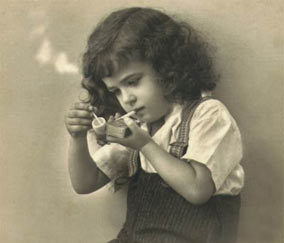 They would surely not know the story, and hence such a scene forms an indelible impression on those minds. If they are young malleable minds, it might send them into a whirlpool of unhealthy activities. Not just smoking and drinking, but also expecting parents to be appreciative of that.
I might be ok with a solitary dialogue in which one protagonist might ask another to smoke or drink, but an entire scene lasting atleast 10minutes unfolding on an entertainment channel is completely the wrong thing to happen.
More views solicited.